Weddings, Funerals, Anniversaries, Memorials... Any Occasion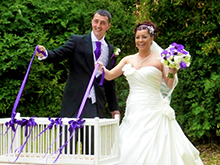 We cater for all 'occasions': weddings, funerals, anniversaries, any event that you would like this special display at.
Dove Occasions is based in a small village outside of Hull East Yorkshire. We cover from Grimsby, Howden up to Scarborough. We have cages and baskets that can be decorated to match your prefered colour scheme.
Our Doves are kept in a loft in the back garden with our racing pigeons. The birds are trained along side the racers, bred specially for their homing ability. You're welcome to visit the birds and see where they live and how well they are cared for. Have a hold too if you desire it.